Giveaways Terms
& Conditions Generator
Use this terms and conditions generator app to write and host your own Terms and Conditions. A public page will be generated with a unique link you can use to communicate the Terms and Conditions of your promotions and giveaways.
Create terms
See how it works
How does the Terms and Conditions for Giveaways Generator work?
The Terms and Conditions Generator is a free online tool that allows you to create and host the legal bases of your promotions and giveaways.
Choose between the two template models. You can edit the document in part or in its entirety.
Why include legal bases in your giveaways and raffles and online promotions?
Generating your legal bases allows you to gain peace of mind. By making the conditions for participation available to your audience, you provide transparency to your promotions and giveaways, and generate more security for participants.
In addition, it is an excellent strategy to increase the level of participation of the audience in your promotion. In this article we have highlighted the benefits for your brand of generating the terms and conditions of your promotion and sharing them with your audience.
Do I have to create the promotion with Rafflys in order to use it?
No, it's not necessary. You can use these templates to quickly create and host the legal bases of any promotion, regardless of whether you use Rafflys to carry it out or pick the final winners.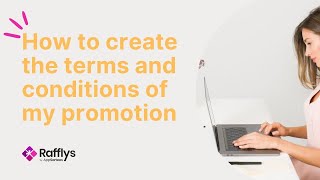 Create your legal terms, for free:
Select the template appropriate to your promotion.
Enter the promotion or giveaway title.
Fill in the fields with the details of your business and your promotion.
Save the changes made, you can edit them at any time.
Share the link of your terms and conditions with your audicence.
See how it works
Frequently Asked Questions
How many times can I use and edit the legal bases document?
You can create your Terms and Conditions document for Giveaways and Promotions and edit it as many times as you want until it is shared with the participants.
Does this application have a cost?
Our Terms & Conditions generator for giveaways and promotions is 100% free of charge.
Do I need to have an account to use the Terms & Conditions generator for giveaways and promotions?
To use our online legal base creator you need to have an active account.
How many legal bases can I have active in my account?
At the moment, there is no limit to the number of legal bases you can have active in your account.
What kind of terms and conditions for promotions are available?
In our app we have two models of legal bases:
One specific for giveaways in social networks.
Another is more oriented to the different promotions that you can carry out with Rafflys (Prize Wheel, Random Numbers, Flip a Coin, etc.).
Can I totally modify the text of the legal bases?
Of course you can! Our terms and conditions are fully editable. If you find that they do not suit your promotion, you can click on the "Edit all content" button and modify the text.
Can I download the legal bases created for my promotion?
Yes, this can be done in the following way: On your keyboard type "command + p" or "control + p" or right click and then click on print. In the print window click on save.
How can I share my terms and conditions?
When you create the legal bases for your giveaway, a link will be created with which you can:
Place on your business website.
Paste in the announcement post of your Giveaway.
Email it to your customers, etc.