Spin the wheel generator
Create and customize your spin the wheel app in minutes. Capture leads, boost sales, and engage your audience on any device!
Exit-intent popup wheel.
Fully customizable design.
Capture and Export Leads
Try it for free
See it in action
No credit card required
Trusted by +3M customers from 87 countries.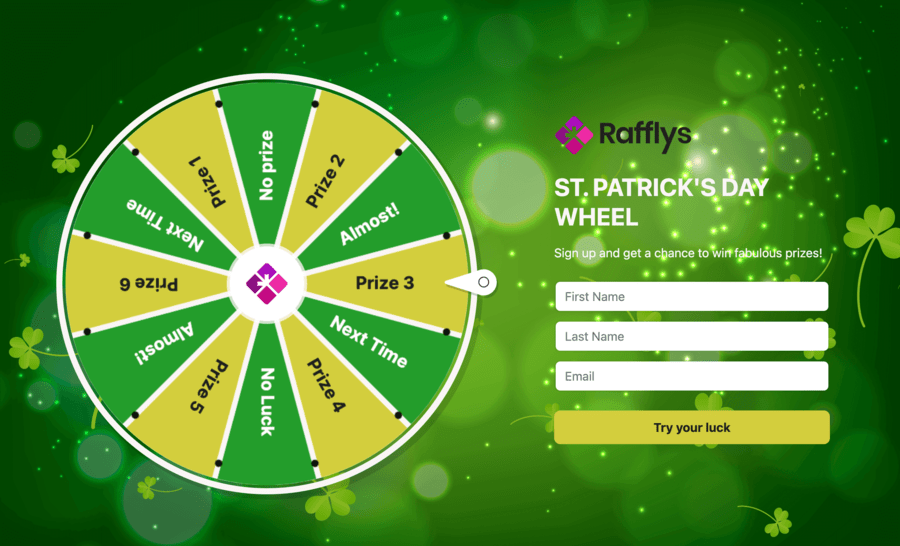 You're in good company
Trusted by 11,362+ brands and influencers that use Rafflys for their online giveaways and promotions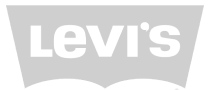 "Highly Recommend!"

Jackie Lawson
@JackieLawson
"Impressive Analytics"
"Boosted Sales, Great Design"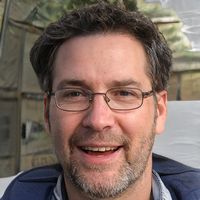 Timmothy Kelley
@timm_othy9
Most common use cases
Our super-fun prize wheel helps you draw visitors to your booth while providing lead capture and follow-up tools.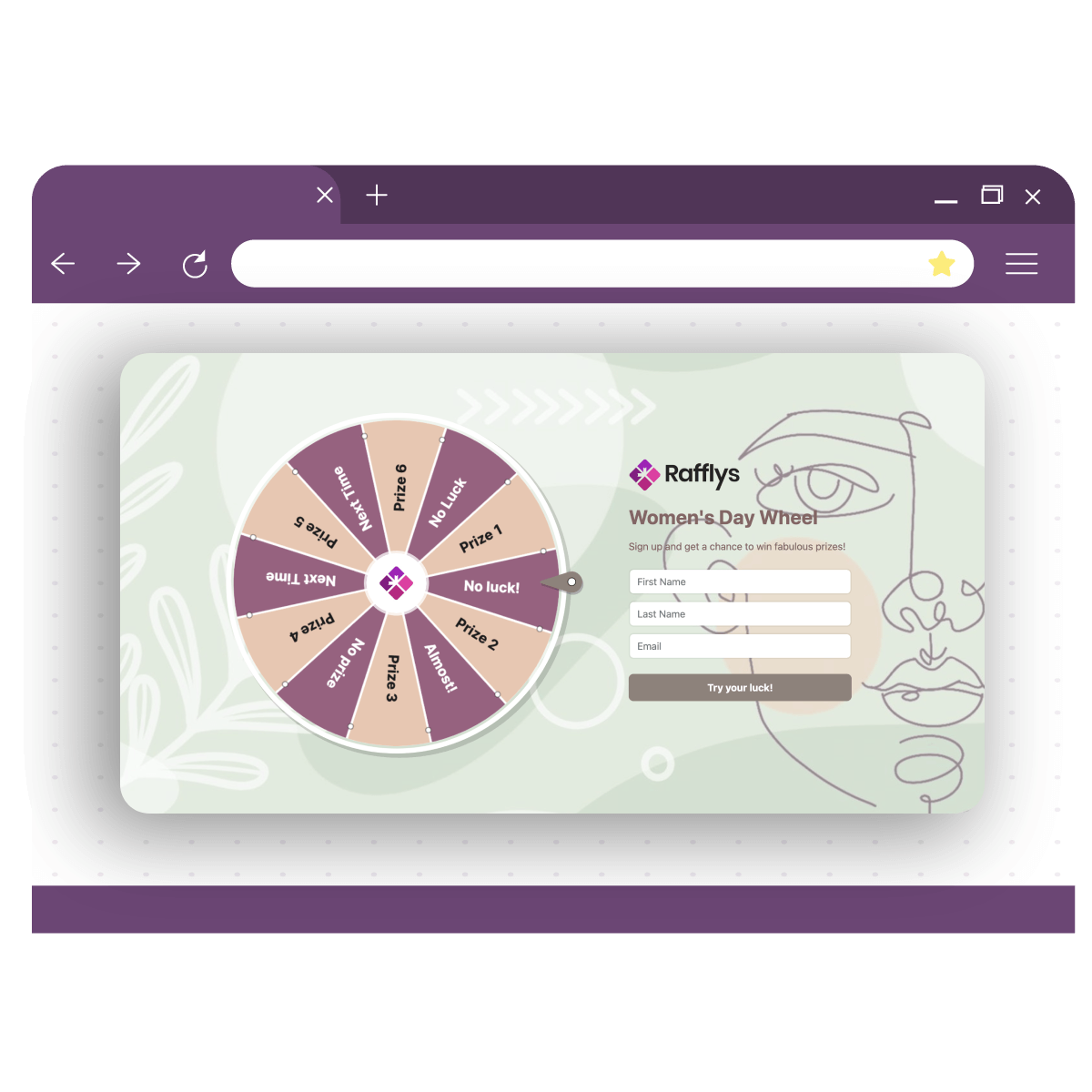 Website Popup
Embed the fortune wheel on your site and giveaway instant discounts
View demo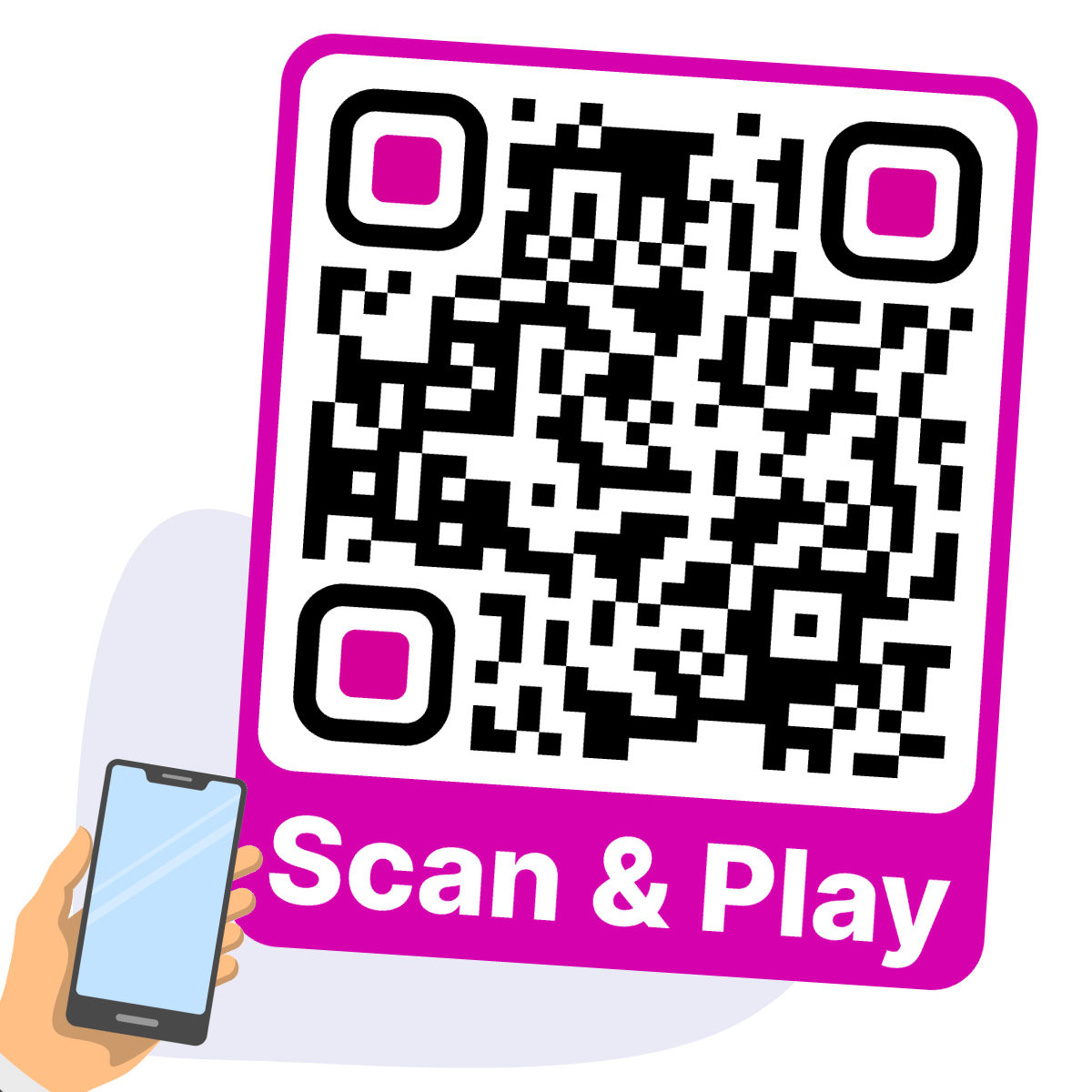 Live Promotion
Want to have people spin the wheel in store? Use a QR code to attract participants off-line
View demo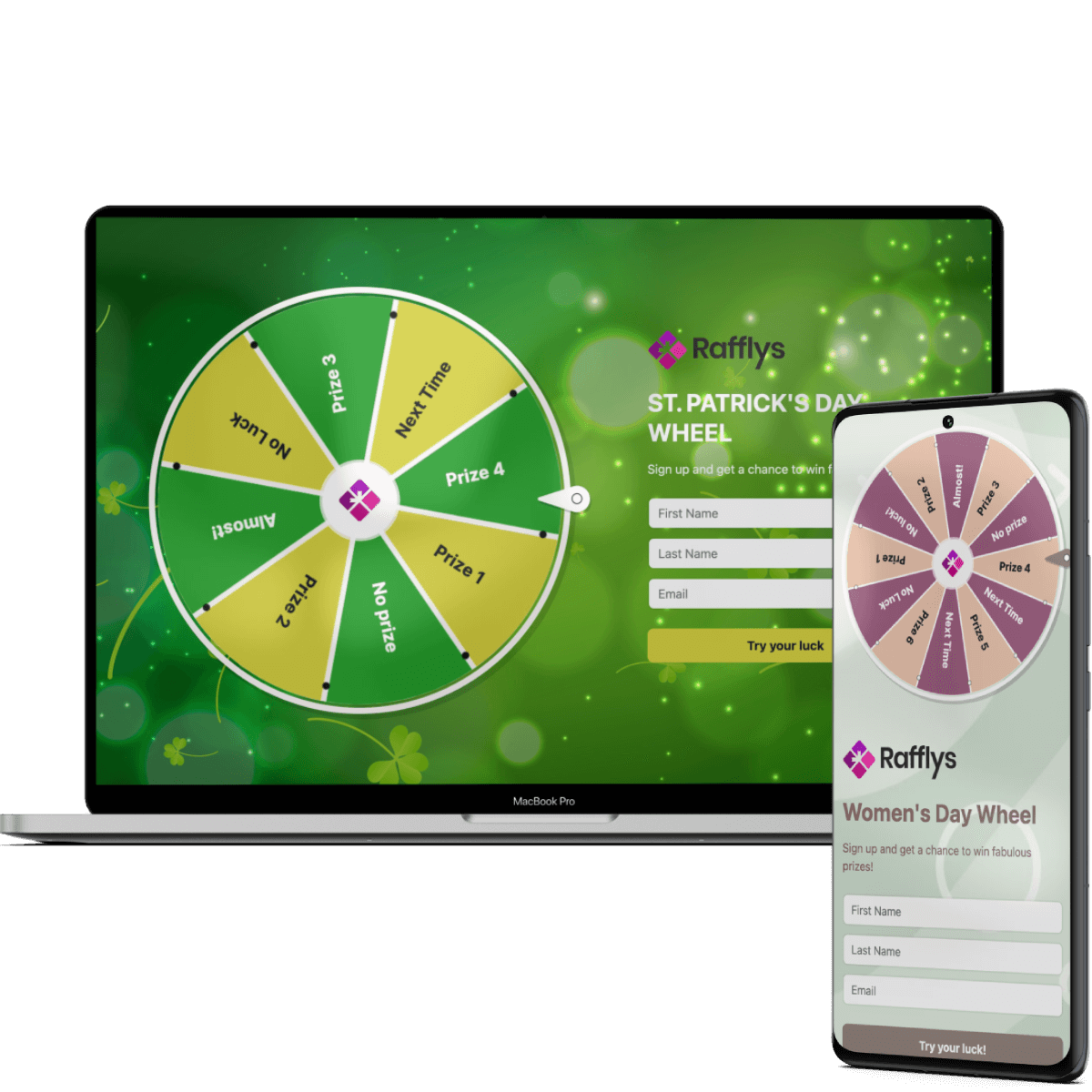 Standalone Promo
Capture leads by sharing the link of your Fortune wheel on social media, email, etc.
View demo
How it works: 4 easy steps to create your spin the wheel
1

Customize your wheel design

Our user-friendly visual builder enables you to easily customize the design of your spin-to-win game and enhance your lead generation efforts.

2

Manage prizes (Quantity & Probability)

Easily generate and manage your Wheel Prizes by setting the quantity and probability of winning for each prize separately.

3

Make your audience play!

Share the roulette by either sharing the stand alone link, embedding it on your website or sharing a QR code.

You will be able to view and export a database of all participating users along with their respective prizes.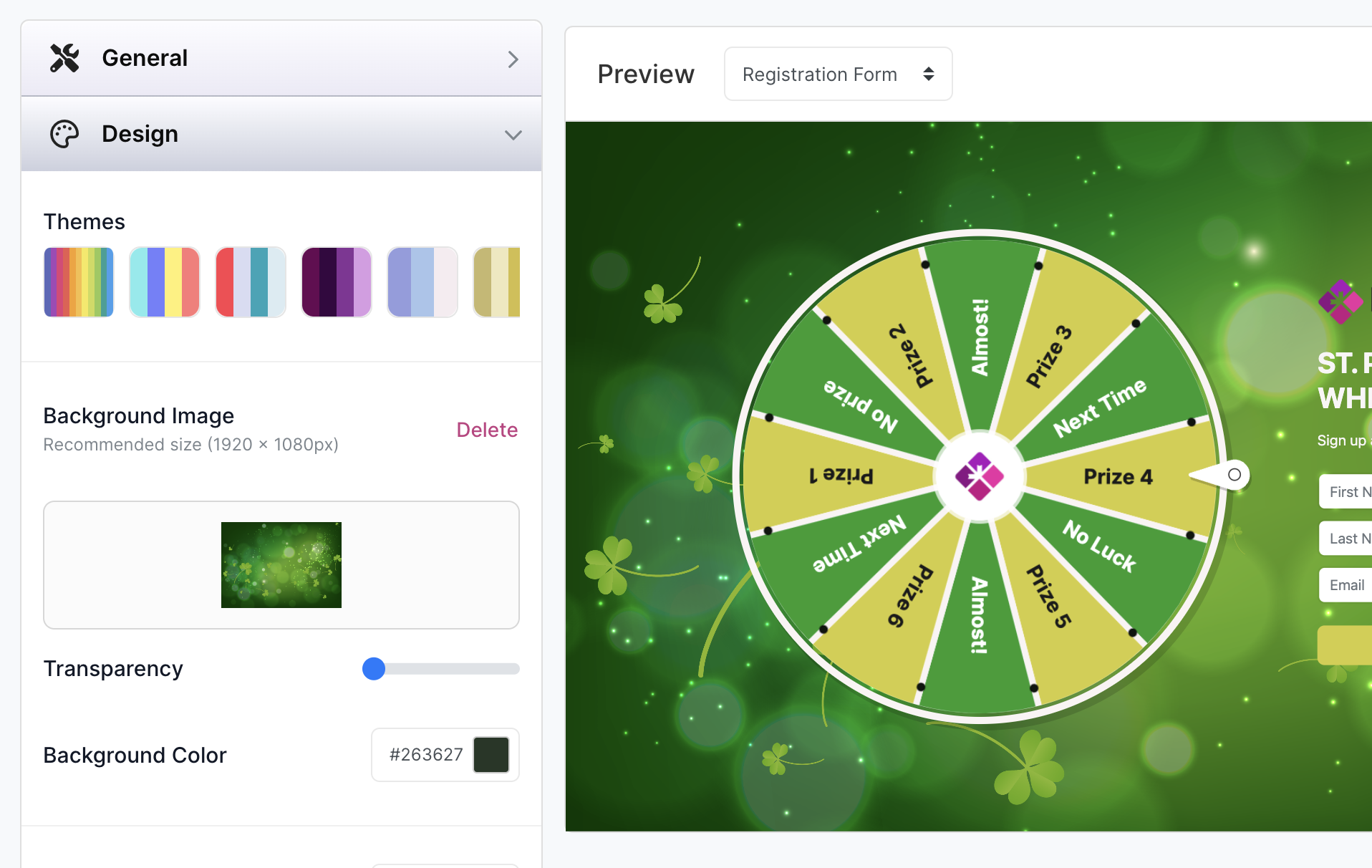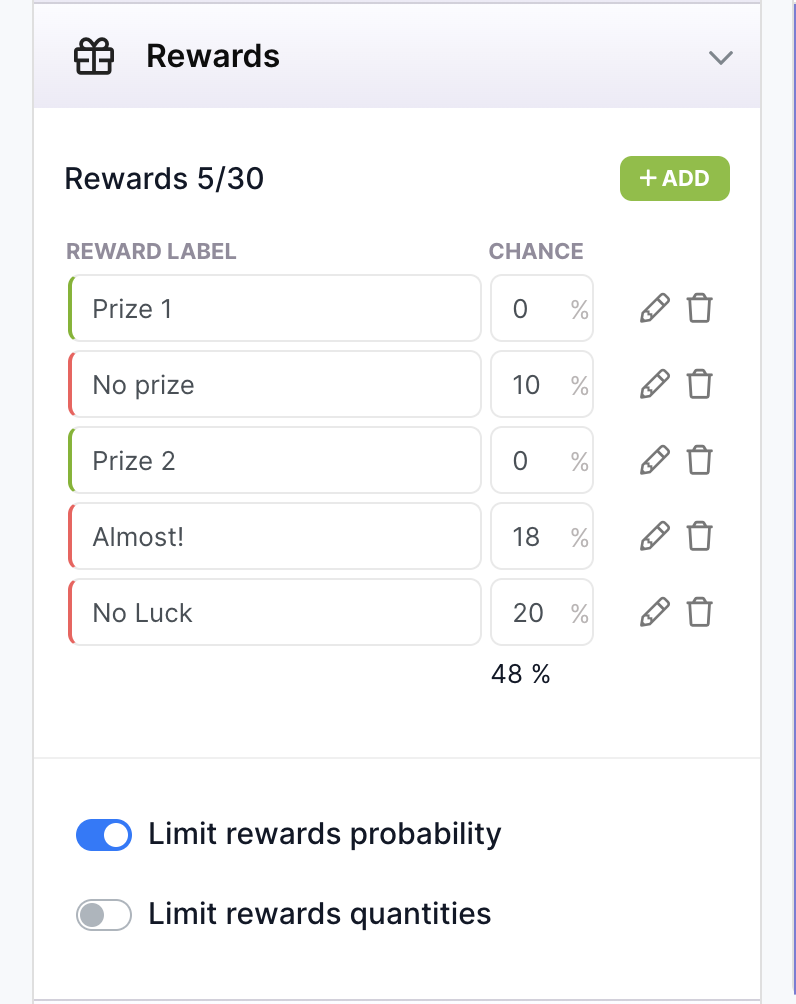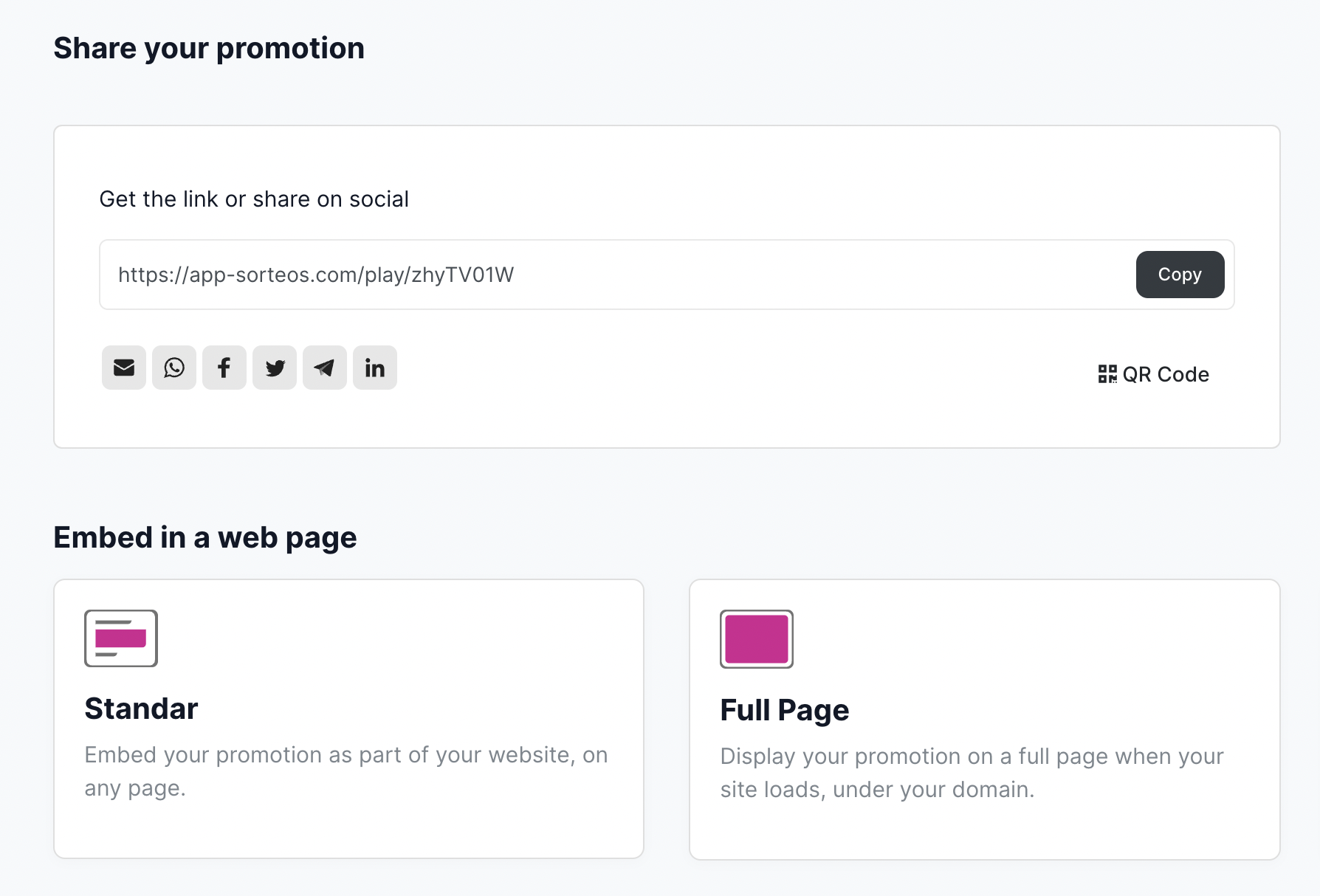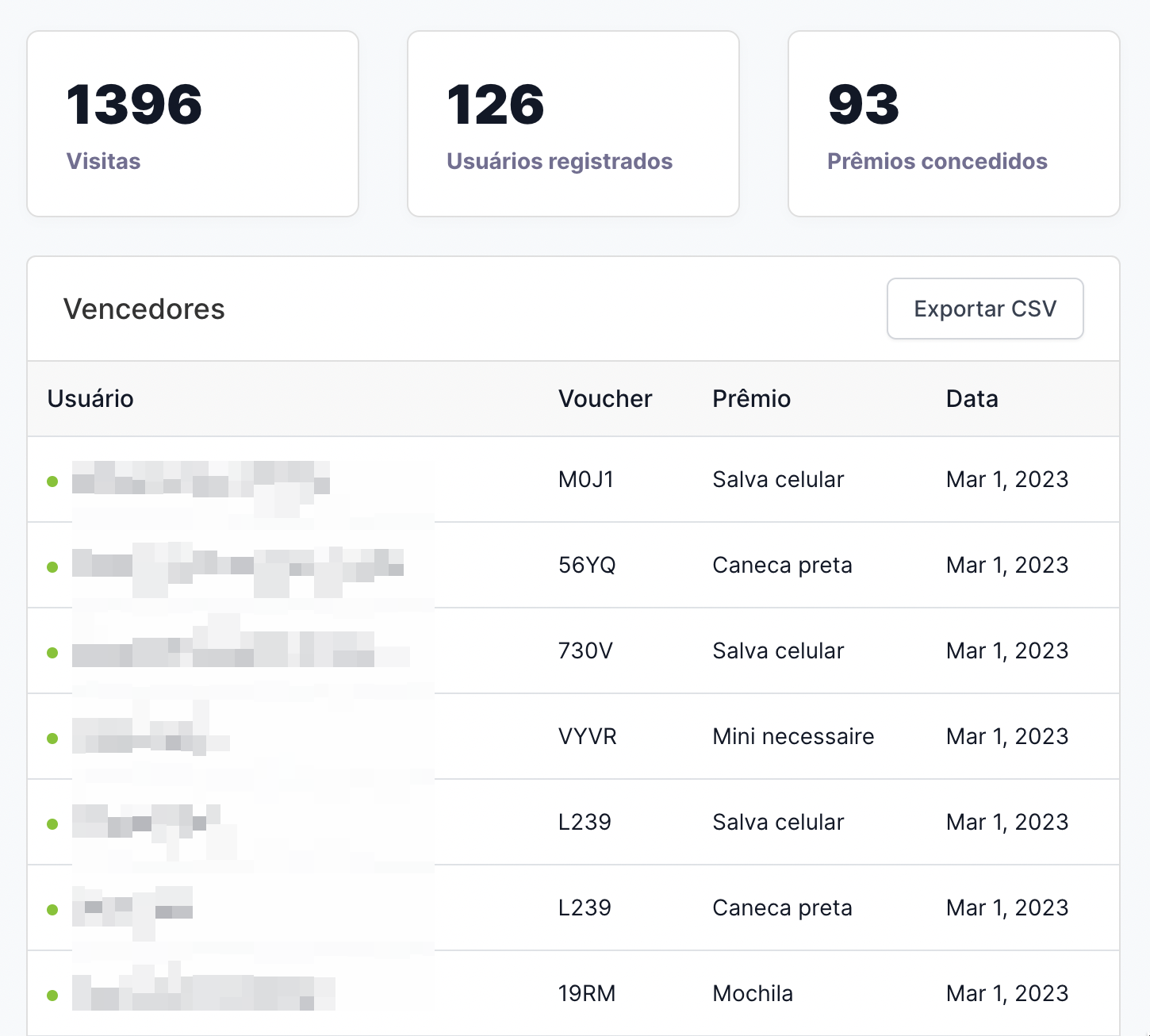 Main Features
Discover the top features of our Spin Wheel Generator and how you can benefit from our platform
Manage Prizes
Create and manage the Wheel Prizes, set quantity and the probability of win for each individual prize
Design Customization
Pick your brand colors, upload a background image as well as show the brand logo in the middle of the wheel.
Capture and Export Leads
Export CSV files containing the data of all leads (users who participated in the promotion) for your records.
Embed on your Site
Effortlessly integrate the Spin wheel into your website or Wordpress blog.
Get Analytics
Gain insights into your promotion's performance, such as visits, shares, and participation rates, with our statistics feature.
Anti-cheat
We employ IP validation to prevent fake or invalid email addresses from joining your list, ensuring a higher level of data accuracy and list quality.
Our 3 types of Spin Wheel Promos
Website Popup
Embed the spin wheel on your site
Embedding a spin wheel on your website is a fantastic way to capture leads and increase customer engagement. With this interactive feature, you can offer discounts and prizes to incentivize purchases and encourage visitors to stick around longer.
Increase sales
Exit-intent popup
Export the data from all the leads as CSV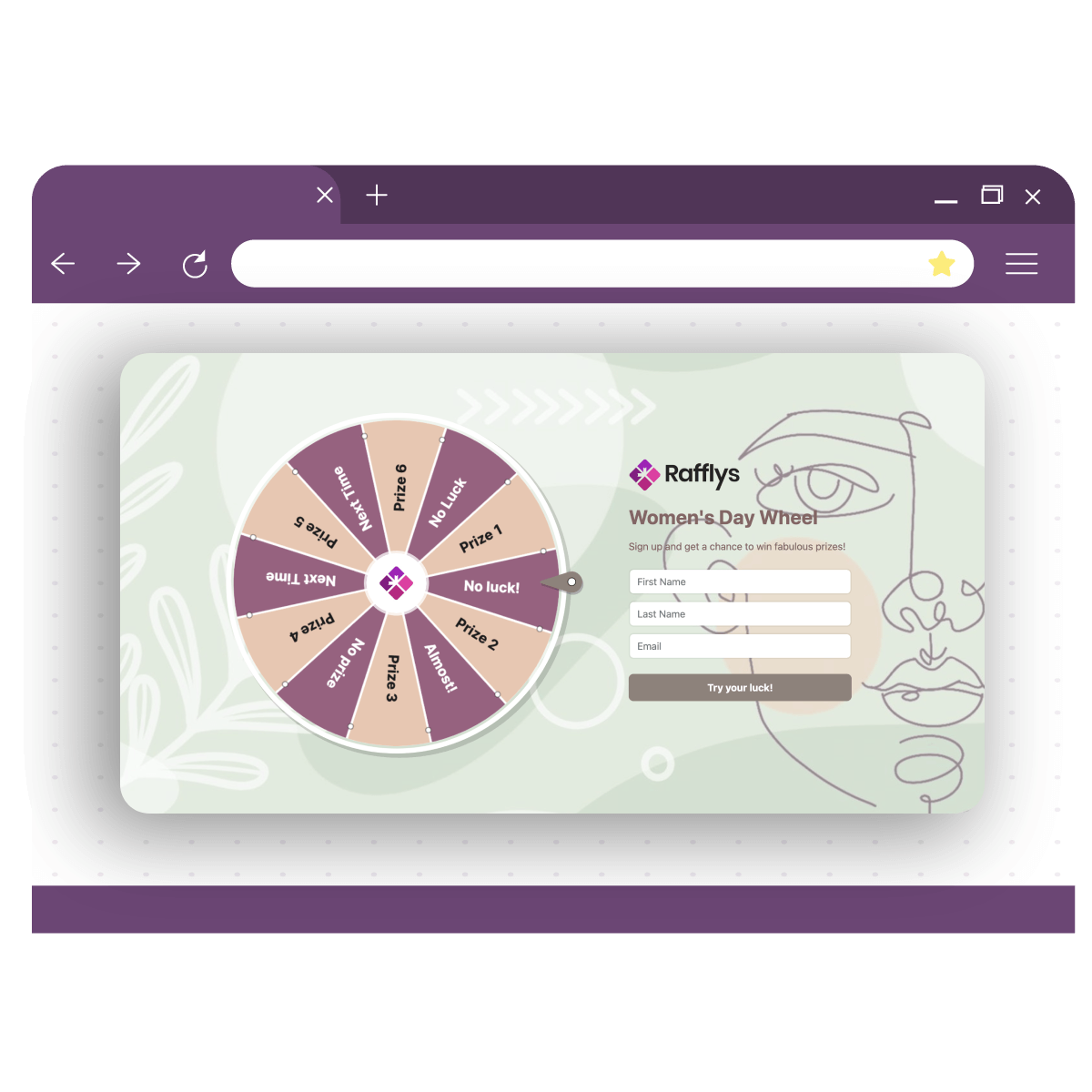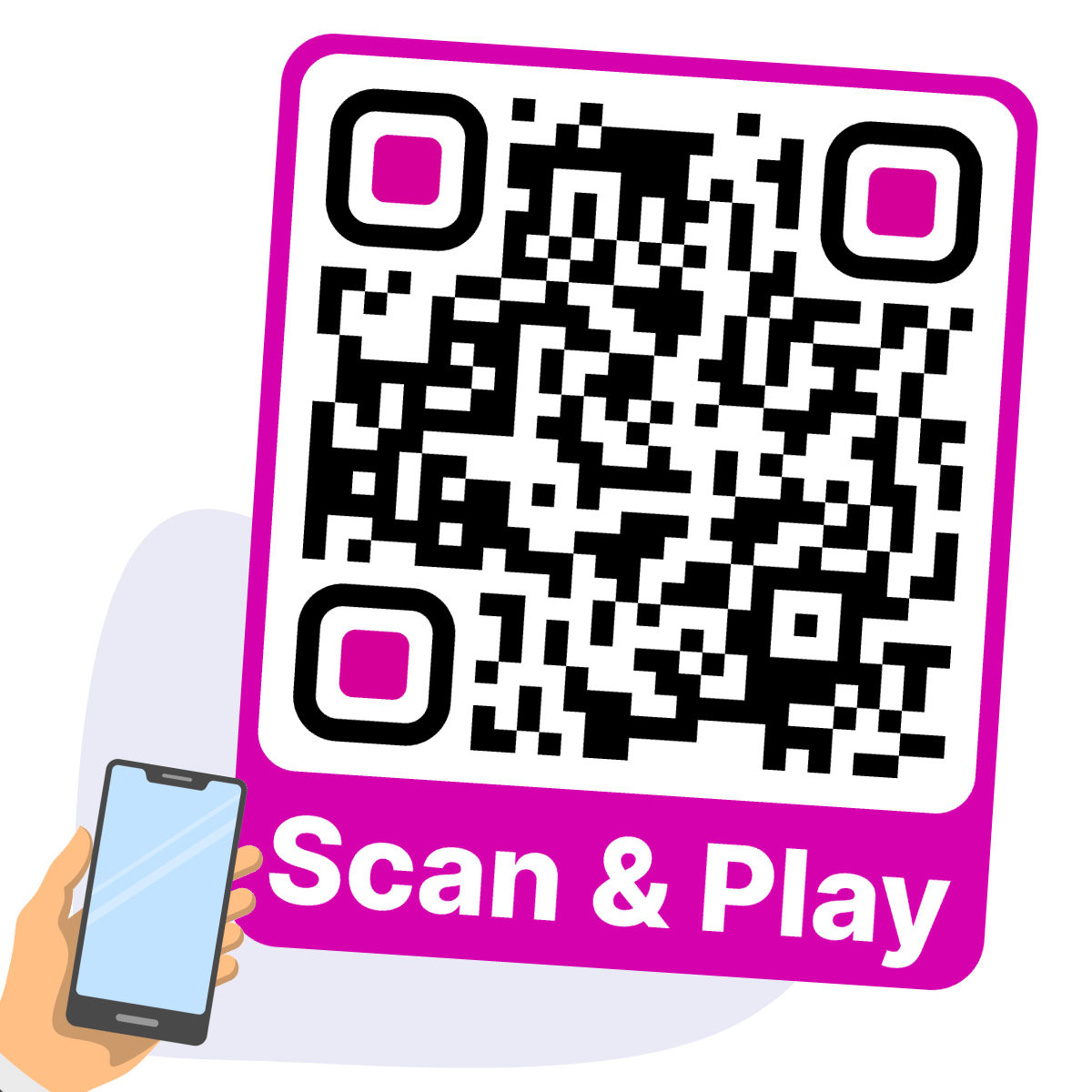 Live Promotion
Boost In-Store Engagement with QR Code Scanning!
Bring the excitement to your brick-and-mortar store by displaying a printed QR code. Invite your customers to scan it using their smartphones to participate, or display it on a tablet or touch screen for their convenience.
Engage customers in-store and capture data.
Encourage purchases with spin the wheel discounts.
Create a memorable shopping experience.
Standalone Promo
Generate a link to your Stand-Alone promotion
Boost your brand and capture leads with a customized spin wheel game that matches your brand identity and can be shared through a stand-alone page. It's easy to set up and a fun way to engage with your audience!
Edit prices and quantities to match your marketing goals
Increase brand awareness and drive traffic to your website
Collect valuable customer data for future marketing efforts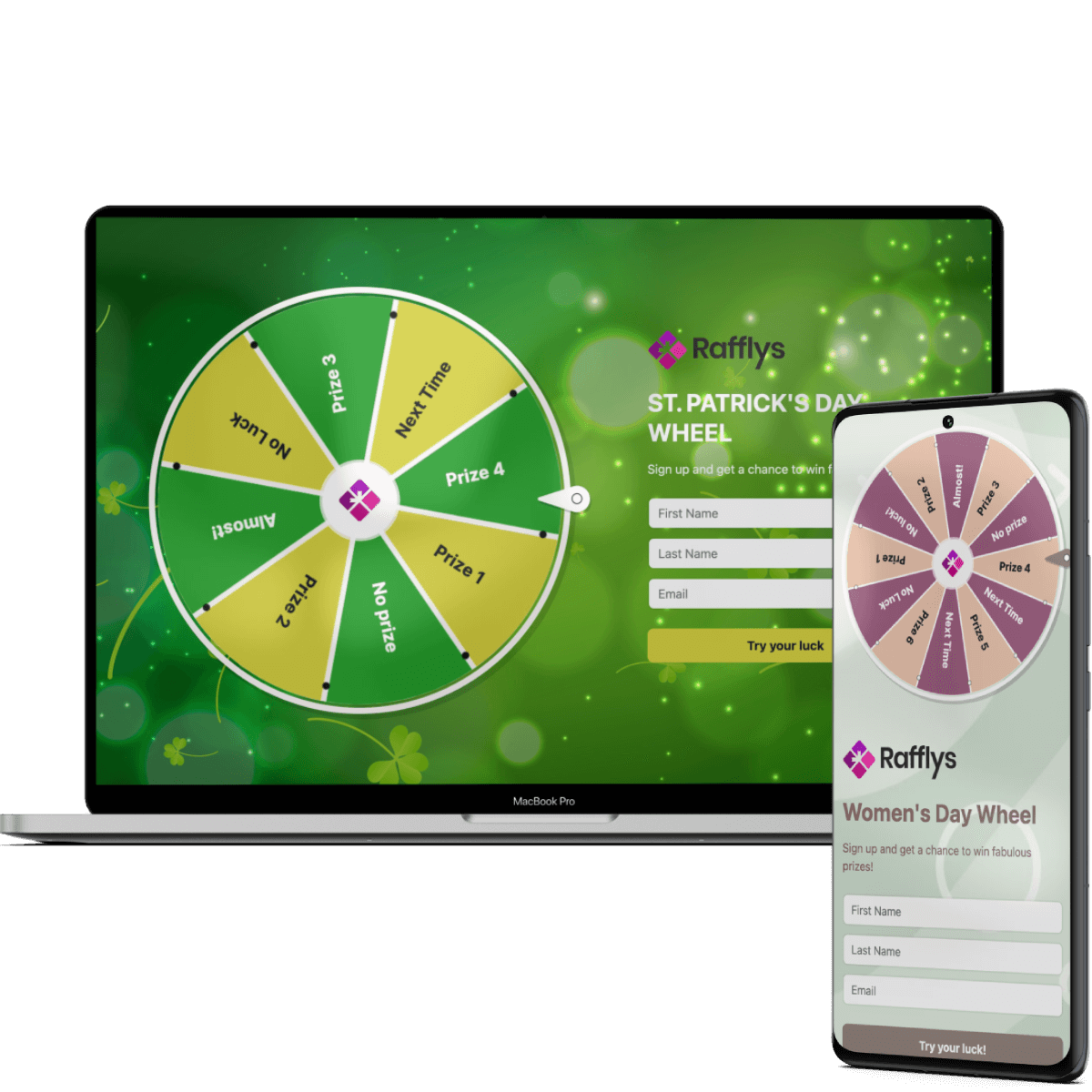 Frequently Asked Questions
How can I customize the look and feel of my Spin the Wheel app?
Our platform offers a user-friendly visual builder that allows you to easily customize the design and appearance of your Spin the Wheel app.
Does it work in my language?
Sure! you can customize it in English, Spanish, or Portuguese.
Can I add my own branding and logo to my Spin the Wheel app?
Yes, you can add your own branding and logo to your Spin the Wheel app to maintain consistency with your brand identity.
What types of prizes can I offer on my Spin the Wheel app?
You can offer a wide variety of prizes on your Spin the Wheel app, including discounts, coupons, free shipping, and exclusive content.
Can I set the probability of winning for each prize on my Spin the Wheel app?
Yes, you can set the probability of winning for each prize on your Spin the Wheel app to control the odds and level of difficulty.
How can I embed my Spin the Wheel app onto my website or blog?
You can embed your Spin the Wheel app onto your website or blog by copying and pasting a simple code snippet into your website's HTML code.
What type of data and analytics can I access for my Spin the Wheel app?
Rafflys offers in-depth data and analytics, such as participant count, page views, number of winners, spin frequency, and prize distribution, enabling you to fine-tune your promotional strategy for optimal results.
What are the different pricing plans available for the Spin the Wheel app?
Rafflys offers various pricing plans with different participant and page views limits, allowing you to select the plan that best fits your needs. see the full pricing list here: Rafflys Plans & Pricing
Is there a customer support team available to assist me with any issues or questions I may have?
Yes, our dedicated customer support team is available to assist you with any issues or questions you may have, and can be reached via email / support tickets